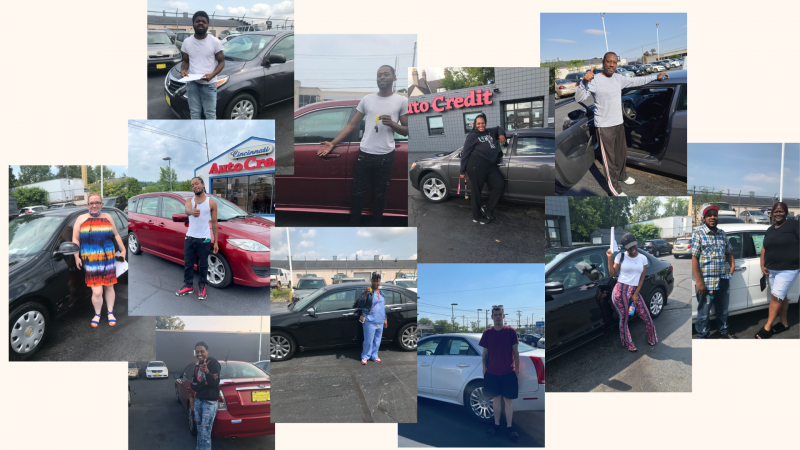 You know the phrase: If it's not broke, don't fix it. We believe that philosophy perfectly represents our process at Cincinnati Auto Credit. We've been around for a long time – over 30 years! Our experience in the used car business has helped us fine tune our process to make sure you have the best experience possible. When you walk onto a Cincinnati Auto Credit lot, you can expect efficient, consistent, and above-and-beyond service that goes the extra mile for you.
We're sharing our secret sauce... Here's how we've managed to stay in business for over 30 years.
We're here for you
Are you stressed out of your mind looking for a used car dealership to help you find a car in your budget and personalize financing options to fit your credit? We have your back!
We know our customers have specific needs that need to be met and often need personalized help to get them in their next used car. When you buy a vehicle with Cincinnati Auto Credit, you can expect to see the same friendly faces when you come back to our lot.
Often times our customers might have an urgent question about their financing, or need help figuring out a way to make their loans work for their budgets. We know life throws the occasional curveball, which is why we always invite our customers to stop by one of our lots or give us a call, and we can help figure out a solution that works!
The Customer is our #1 priority
We know that long-term success entirely depends on how our customers feel when they leave our lots, that's why we make your satisfaction our priority. We'll go the extra mile to do what is best for you in the long term, rather than what might be more "convenient" for us now.
Our sales staff goes above and beyond to find the car that's right for you. Besides meeting your budget, we can suggest the highest quality vehicle with the options and features to fit your lifestyle. And we work to make your cars work for you. It's true! We've even gone so far as changing customers' tires, jumping car batteries, or even giving a ride to work!
Consistency is key
The used car shortage has shaken up the car industry, and not always for the better. In fact, some dealerships look more like empty parking lots nowadays. But you can rest assured that we continue to offer the same shopping experience on our lots as you had 5 – 10 years ago, with the same selection of vehicles and our tried-and-true sales experience. Like we said earlier, if it's not broke, don't fix it!
At other lots, sales personnel may make you fall in love with a car before knowing you can afford it. We hear time and time again from our customers coming from other lots how they're whisked away onto several test drives, finally picking out the car of their dreams only to be turned down for a loan on their credit application. Besides the letdown of being turned away, processes like this also waste your time by making the car buying experience several hours longer than it needs to be. How frustrating!
At Cincinnati Auto Credit, we take the opposite approach. When customers walk onto our lot, they sit down right away with one of our associates to see what vehicles they qualify for. This allows us to customize their shopping and test-driving experience to only the cars that are available to them. Straight to the point, and no wasted time spent driving cars outside of your budget.
If you're ready for a new-to-you vehicle, contact us today and give us a chance to help you find what you're looking for.